fisherman stream
FISHERMAN STREAM - SOFT WHERE - TRANSPIN My work for EVENTA4 contains three parts: The first part is the visible object - FISHERMAN STREAM - on the bank of the river Fyris. Thirteen white elastic angle rods stand in green reed grass on the riverside. They are moving in the wind like big blades of grass, like rods to fish god knows what. They form a field of feelers to investigate the water, to get informations, lost in this stream. A special kind of water seismograph, that shows and records all the waters history. The second part is an invisible object - SOFT WHERE -
Every spot on the earth has its own exact geographic coordinates. They can be measured by satellites with GPS (Global Positioning System). Behind these coordinates history, importance and beauty is covered. I have been taking all 50 billion digits of the circular number PI, known until summer 1998, and wrote each of them on a square 100x100 meters. In honour to Archimedes I begin to cover the earth in Syracus with this number squares. I put the numbers along a north-south meridian one after another in the exact succession. So the numbers form a ring around the earth and this way all rings form a sphere around the world. All known PI-digits will be used for this covering process. When the earth is covered by 50 billion digits, every geographic place on the earth will have its own number field, based on the today's knowledge, the spherical earth and the number PI.
I "excavate" this number field on the top of the Viking-graves near Vallsgärde.
I took a picture of this spot and after some calculations I made it visible on a computer screen. The image exists as a data-file and this file will be a gift to Ekeby Qvarn Art Space. This unique virtual object is a projection of the greek sphere of beauty to the biggest material sphere we live on - the earth. The third part - TRANSPIN - could be realised only by the help of other people. I transformed the first thousands digits of the circular number PI into 31 fundamental pictures. I assigned every number to simple geometric forms (circle, square, straight line) and this way I made the covered qualities of a circle visible. My idea is to make all these fundamental pictures travel one time around the largest physical sphere, the earth. I asked all the foreign artists involved in EVEVTA4 to help me to realize this travel and I hope, that after some time all this objects will come back to me. They will be older and they will be looking like an old skin and many influences and impressions will have left their mark on it. Thereby a coincident number of people will be involved in a creating process, based on the circles geometry.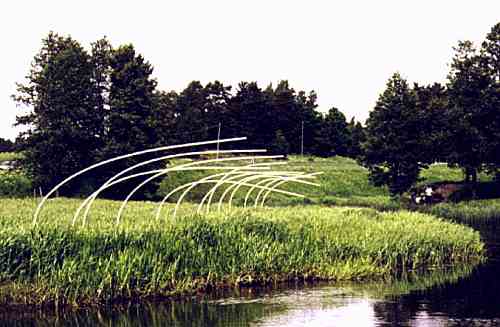 "fisherman stream", kinetic object, 1998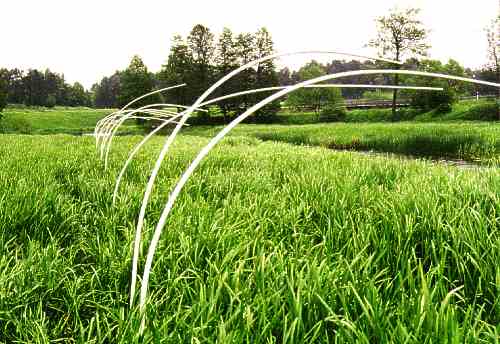 "fisherman stream", kinetic object, 1998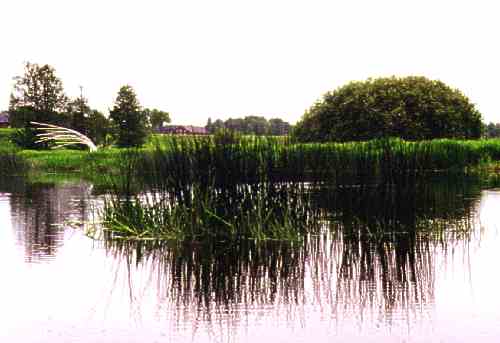 "fisherman stream", kinetic object, 1998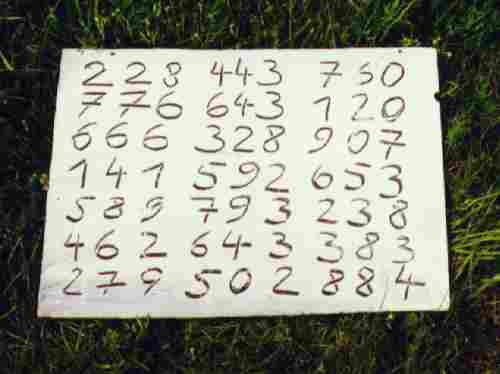 soft where - Vallsgärde/Viking graves, number field, 1998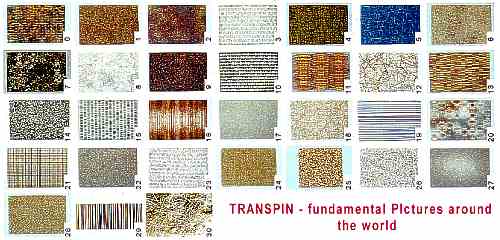 transpin, 31 PIctures, computer prints, 1998
HAEL YXXS
21. 9. 1998